Recently Alienware launched a new family of Gaming laptops called the X-Series. This new X series is totally dedicated towards Mobile PC Gaming. They launched a pair of laptops in their X Series category, the Alienware x15 & Alienware x17, the latest Alienware laptop for Gaming in 2021.
These latest Alienware notebook will be able to handle heavy and multiple loads with ease. With their outstanding system level of research and development in the field of engineering, cooling technologies and new improvements in their patent Legend 2.0 design, they managed to pack the latest high end performance components into one of their thinnest and lightweight form factor.
Lets check out the all new Dell Alienware latest X Series Gaming Laptops.
Specifications
ALIENWARE X17 R1 GAMING LAPTOP
11th Generation Intel® Core™ i9-11980HK (24MB Cache, up to 5 GHz, 8 cores)
Windows 10 Home English
NVIDIA® GeForce RTX™ 3080 16GB GDDR6
32GB Dual Channel DDR4 XMP at 3466MHz
2TB M.2 PCIe NVMe Solid State Drive
Lunar Light with High Endurance Clear Coat designed for stain resistance
17.3″ UHD (3840 x 2160) 120Hz 4ms, anti-glare, 100% Adobe, 500 nits, wide-viewing angle
Alienware's CherryMX ultra-low profile mechanical keyboard with per-key AlienFX lighting
Killer™ Wi-Fi 6E (Pre-certified) AX1675 802.11ax 2×2 Wireless LAN and Bluetooth 5.2
Latest innovations to Cryo-Tech Cooling Technology
ALIENWARE X15 R1 GAMING LAPTOP
Intel® Core™ i9 11900H (8-Core, 24MB L3 Cache, up to 4.9GHz with Turbo Boost Max 3.0 Technology)
Windows 10 Home English
NVIDIA® GeForce RTX™ 3080 8GB GDDR6
32GB DDR4, 3200MHz
2TB M.2 PCIe NVMe Solid State Drive
Lunar Light with High Endurance Clear Coat designed for stain resistance
Killer™ Wi-Fi 6E (Pre-certified) AX1675 802.11ax 2×2 Wireless LAN and Bluetooth 5.2
15.6″ QHD (2560 x 1440) 240Hz 2ms with ComfortView Plus, NVIDIA G-SYNC and Advanced Optimus
Alienware's CherryMX ultra-low profile mechanical keyboard with per-key AlienFX lighting
Latest innovations to Cryo-Tech Cooling Technology
Design and Aesthetics
These Alienware laptops are the thinnest of all their Gaming laptops released till date. Alienware partnered up with Intel to manufacture these two laptops to be one the thinnest measuring 15.9mm for the x15 and 20.9mm for the x17. Alienware claims these new gaming laptops to be the world's most thin and powerful sub 16mm Gaming laptop.
The Alienware new x15 & x17 laptops are based on the Legend 2.0 design which features the Dark Core as we seen in the last generation Alienware M15. Alienware built their new gaming laptops upon their famous iconic Legend 2.0 Industrial designs. The Dark Core provides a very aesthetically pleasing looks while hiding all the ports and vents and removes the distractions. The seamless stain resistant paint comes in a silky smooth finish which makes the design more cleaner.
The hexagonal venting pattern at the back is illuminated by a continuous controllable RGB lighting loop. With Enhanced AlienFX hardware and software support you will be able to control the lighting depending on your mood and requirements. You can also setup and assign different lighting effects for different games along with the Dark Mode which turns off all the lighting completely.
Connectivity
For the connectivity side of things, all the ports are present on the back of the laptop.
USB 3.2 Gen 1 Type-A with Power share
Type-C Thunderbolt™ 4 / USB 3.2 Gen 2 Port, with a 5V/3A Power Delivery
Micro SD Slot
Type-C USB 3.2 Gen 2 Port, with 5V/3A Power Delivery
HDMI 2.1 Port with native 4K/120Hz output on other displays
We get a Headphone/Microphone jack on the right side of the laptop and Power DC-in Port on the left side of the laptop.
Alienware also added their small form factor 240W power adapter which is now 46% smaller while being 25% lighter with 1.9% more efficient than the last year's Power adapters. The Killer Wi-Fi 6 will deliver an improved stable wireless network performance across the board. The seperately provided Type C RJ-45 dongle helps gamers to enjoy the speeds of a wired network while keeping the system thin and light.
Display
The latest Alienware x15 Laptop features a 15.6-inch 240Hz refresh rate gaming display with 2ms response time. The display is a QHD display with a resolution of 2560×144. The x17 features an UHD 3840×2160 Display with 120Hz Refresh rate and 4ms response time. The display is 100% color calibrated with 500 nits of brightness with a wide viewing angle experience.
The 240Hz display supports the Nvidia Gsync technology which gives the games a tear free and stutter free gaming experience. The low blue light or the Comfort View Plus technology is a hardware based feature so that gamers can game long without affecting their eyes. Plus both the panels offer a wide range of vibrant colors so images and videos will look more crystal clear and sharper with excellent color reproduction throughout. The display is also color calibrated with over 99% of DCR-P3 Color Gamut.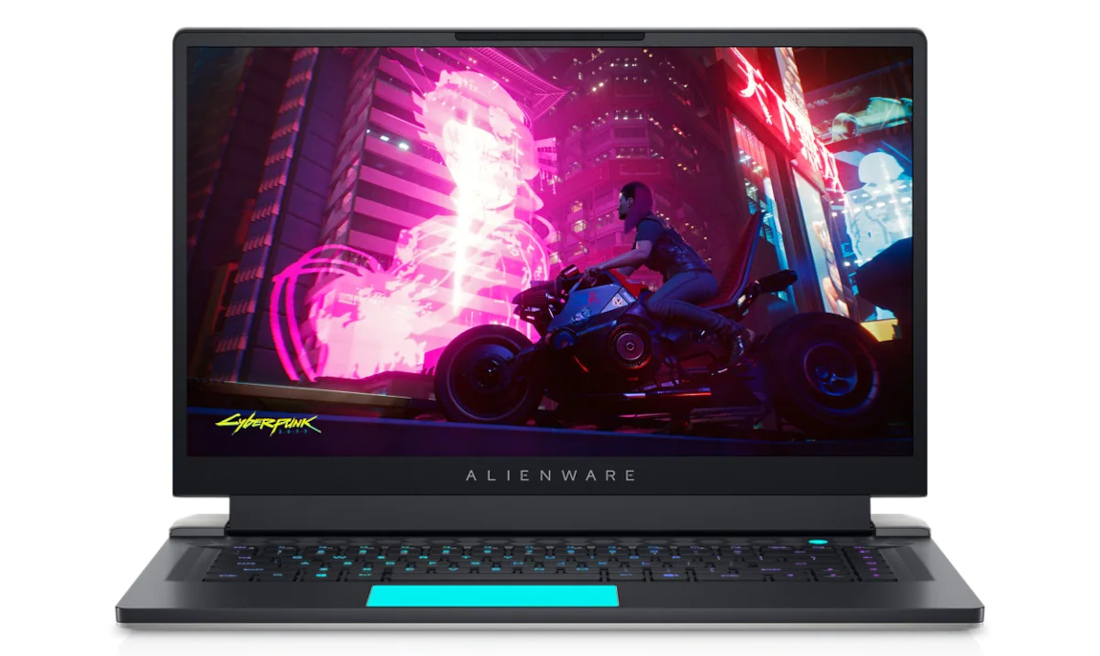 Keyboard and Touchpad
The Premium Alien FX keyboard is extremely responsive and it features Per-Key RGB lighting which is controllable via the Alienware Command Center. The keys have a mechanical feel with 1.5mm key travel with N-Key Rollover and anti-ghosting technology.
The illuminated touchpad is very responsive and it feels butter smooth while using. The pinch to zoom, drags and other gestures work accurately with no errors. The RGB lighting on the touch pad can be customizable using the Alienware command center. The exclusive AlienFX touchpad feature will require an RTX 3080 Graphics card with a separate lighting zone.
Performance
The Alienware latest Gaming laptops are powered by Intel Core Tiger Lake 11th Generation H Series Processors and Nvidia Geforce RTX 3000 Series laptop Graphics Cards. Both of the laptops support upto 110W and 165W for X15 and X17 respectively.
The Hype efficient 8 phase graphics voltage regulation and the 4 phase processor voltage regulation helps saving energy thus producing less heat so there are zero chances of performance cuts due to thermal throttling. The new RTX Graphics cards pushes the system performance to be perform at its best. Along with the AI powered Dynamic Boost 2.0 delivers more performance by optimizing the power requirement in CPU & the GPU. The Nvidia DLSS also boosts performance by a huge margin by AI rendering technology while making the full use of Tensor cores. The Resizable bar technology will help the CPU have access to the GPU memory thus enhancing the performance.
The 8 Core 16 Thread 11th Gen Intel Core i9 Tiger Lake Processors will give a massive performance benefit over the last year's Comet Lake processors both in gaming and productivity workloads.
Thermals
The Alienware laptops makes use of the Cyro Tech Technology for their thermal solutions. This year they came up with an all new Alienware-exclusive encapsulated gallium-silicone thermal interface material called the Element 31. With this, the Alienware claims to offer 25% more improvement in thermal resistance. Alienware says that the Element 31 is placed between the CPU and the other thermal components which will help carry away the heat from the core more faster and efficiently and helps in prevention of thermal throttling. The TCC Offset (Thermal Control Circuit) will help users to set up a custom CPU temperature limit.
ALSO READ | AMD's answer to Ray Tracing
Alienware introduced a massive four fan setup for cooling called the Alienware Quad Fan Technology. This new design will includes a combination of fan which move the air through the system while the other Dual Opposite Outlet fans push the air to the various internal components thus creating an air pressure for a quicker heat dissipation. The fans are controlled intelligently and programmed to function according to the workloads.
Alienware Command Center
With the Alien Command Center you can creatively Control and create profiles for heat management, sound management, customizing lighting and setting up macros. You can also create and link game profiles as per your need. It also includes an easy overclocking control module so that you can squeeze out more performance safely.
Pricing and Availability
The latest Alienware x15 & x17 laptops will be available in the United States from June 15th onwards. The starting retail price of the Alienware x15 will $1999 USD and Alienware x17 will be $2099 USD.
So this was all about the all new Alienware X15 and X17 Gaming Laptops. These laptops were also showcased in Nvidia's Keynote at Computex 2021
Learn more about Dell Alienware Laptops
Thank you for reading till the end
Until next time…
A 30-year-old avid gamer by choice dabbles in all things tech. Whether spending hours in single-player narrative-based games or going through the latest innovation in technology and chip manufacturing, he prefers to stay on top of things. At the other times, you'll find him tucked away drumming and headbanging to Rock and Roll Classics.